Ogni dispositivo capace di collegarsi alla rete Internet e dotato di una scheda di rete, Ethernet o wireless, è dotato di un identificativo formato da 6 ottetti (6 byte) detto appunto MAC address (o 'indirizzo MAC', in italiano).
Il MAC address è univoco ed è formato da due parti con i primi 3 byte che permettono di risalire immediatamente al produttore del dispositivo o della scheda di rete (ecco perché è detto anche indirizzo fisico).

Accedendo al pannello di amministrazione del router (di solito tramite l'IP 192.168.1.1 o 192.68.0.1 anche se può essere differente e impostato arbitrariamente dagli utenti) e facendo riferimento alla sezione Dispositivi connessi, si ottiene l'elenco dei client collegati via cavo Ethernet o in modalità WiFi.
Analogo risultato può essere perseguito usando un'app gratuita per device Android come Fing: Chi è connesso alla rete WiFi o al router?.
Fing e le applicazioni della sua stessa categoria riescono a stabilire quali dispositivi sono connessi alla rete locale, previa scansione della stessa, proprio esaminando i primi tre ottetti del MAC address.

Provate infatti a visitare l'elenco ufficiale aggiornato da IEEE (Institute of Electrical and Electronics Engineers): per ciascun produttore sono indicati i primi 3 byte del MAC address.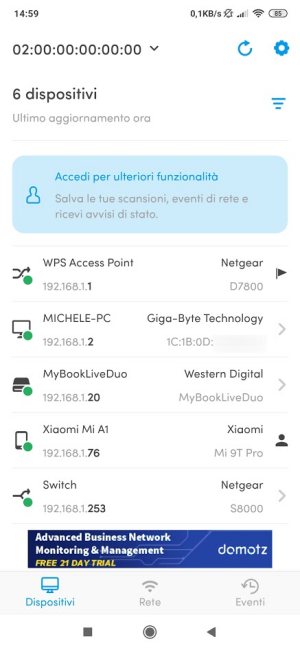 Come si vede nell'immagine, Fing ha indicato il produttore e in molti casi anche il nome del singolo dispositivo analizzandone le specifiche caratteristiche (messaggi di risposta ottenuti, porte aperte, stringhe identificative rilevate,…).
Nell'immagine, Fing non ha ovviamente potuto riconoscere il modello della scheda madre usata sul PC desktop ma ha comunque rivelato che trattasi di una GIGABYTE proprio utilizzando il MAC address. Vai alla fonte